Frequently Asked Questions
Planning to Kick It Trackside?
Here's everything you need to experience the best of Trackside music festival.
Can't find what you're looking for please contact contact@westernfairdistrict.com or send us a message on our Facebook page.
General Festival Questions
WHERE IS TRACKSIDE MUSIC FESTIVAL?
The festival will be taking place in London, Ontario at the Western Fair District in the infield of the Raceway located at 900 King St. See below for map: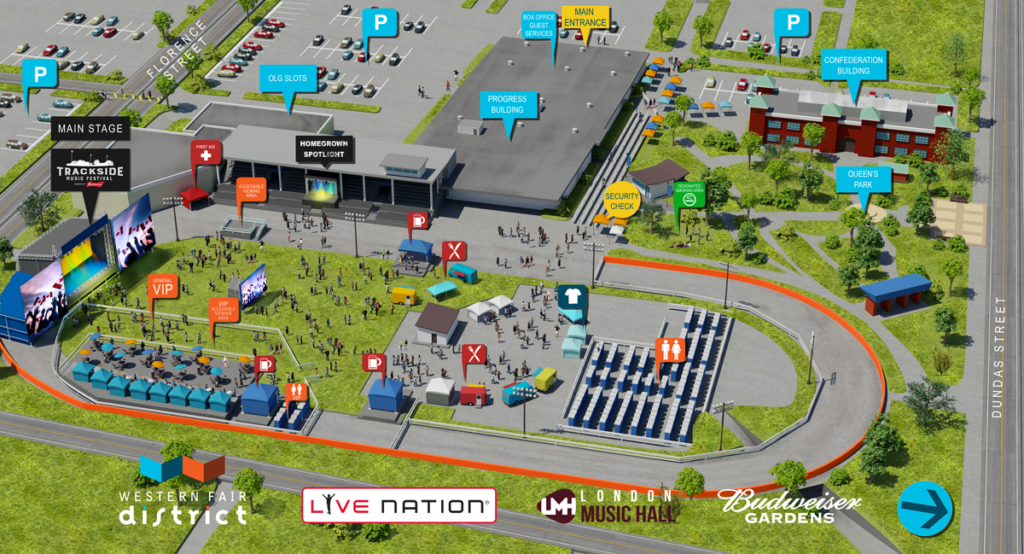 *Please note this map is not to scale and subject to change without notice.
IS THIS A FAMILY FRIENDLY EVENT?
Children are welcome at the concert site and must be accompanied by an adult at all times. Attendance at Trackside is FREE for children under the age of 5. All children ages 5 and up must have a ticket to enter the concert site.
IS THE VENUE WHEELCHAIR ACCESSIBLE?
The venue is wheelchair accessible. There will be an elevated viewing platform. Please be advised that the platform has limited availability and will be first come, first serve. We also offer an accessible seating area for those with wheelchairs or other accessible needs.
IS THERE PARKING AVAILABLE?
There is parking on site at the Western Fair District which will be available daily from 10AM until 3AM. Trackside is also accessible by many LTC routes. See 
www.ltconline.ca
 for details or download the LTC Ride Guide.
Tickets
HOW MUCH DO TICKETS COST AND WHERE CAN I BUY TICKETS?
There are two tiers of tickets: General Admission and VIP. You can purchase tickets in person at any Ticketmaster outlet, online at ticketmaster.ca  or by phone at 866-448-7849. Tickets will also be available at the gates as long as the festival is not sold out. Attendance at Trackside is FREE for children under the age of 5. All children ages 5 and up must have a ticket to enter the concert site. Visit this page for more information on tickets and pricing.
VIP upgrades for general admission tickets will also be available onsite during Trackside while quantities last.
WHAT DOES THE WEEKEND VIP TICKET INCLUDE?
The VIP ticket delivers the ultimate VIP experience to music fans! With a Weekend VIP ticket, fans will have access to:
VIP Entrance
Private Washrooms
Access to front of the stage at ground level
Private Bar Area
WHAT IS YOUR TICKETING POLICY?
All tickets sales are final. Trackside is a rain or shine event, no refunds will be issued due to weather. Artists and program schedule are subject to change without notice.
Your ticket will be exchanged for a wristband onsite that cannot be shared and must remain on the same individual during both days of the festival. If your wristband is ripped, broken or damaged in anyway the Trackside staff has the right to refuse entrance at their own discretion.
IS MY TICKET VALID FOR BOTH DAYS?
Yes, all Trackside tickets are for two-day entry into Trackside Festival. You will exchange your ticket onsite for a wristband which will allow your entry for the two days.
WILL THERE BE A WILL CALL DESK?
Yes, tickets will be available at the Will Call desk in the Canada Building. You will need to have photo ID and the credit card used to purchase the tickets.
IS RE-ENTRY PERMITTED DURING THE FESTIVAL? WILL I BE ABLE TO LEAVE AND RE-ENTER THE FESTIVAL?
There will be same–day in/out privileges between 12pm and 6pm. After 6pm for security reasons, there will be no in/out privileges. This means that guests will not be permitted to exit the festival grounds and re-enter on the same day. You will be able to leave Friday night and re-enter on Saturday.
WILL WE RECEIVE WRISTBANDS?
Yes, all guests will need to redeem their tickets for a two-day wristband. Wristband pick-up will begin Friday, July 1st at 9AM and run until 11PM. On Saturday, July 2nd wristband pickup will run from 11AM until 10PM.
Wristband pickup will take place in the Canada Building at the Western Fair District.
Please bring your ticket which will be scanned on site.
As you enter the venue you will also receive a separate wristband if you are 19+ to enable you to purchase alcoholic beverages.
CAN I TRANSFER MY WRISTBAND?
All wristbands are strictly non-transferable and may only be used by one person. Any sign of damage, rips, tears or misuse of the wristband will cause entry to be refused at the sole discretion of Trackside staff.
MY TICKET HAS A SECTION LISTED WHAT DOES THAT MEAN?
This is a General Admission event and there are no designated sections other than for VIP ticket holders; the section/seat number on the ticket is for tracking purposes only.
WILL TICKETS BE FOR SALE ONSITE?
Tickets will be available at the door as long as the show is not sold out. There will be a Guest Services Box Office located inside the Canada Building on King Street. VIP upgrades will also be on sale for general admission tickets while quantities last.
Trackside Performers
CAN I MEET THE BAND/ARTISTS?
Bands and artists manage their own schedules outside of their allocated performance time. As such, Trackside has no control over setting up meet & greets with fans. GA and VIP tickets do not include meet and greets.
WHERE CAN I FIND A SCHEDULE OF THE WEEKEND'S EVENTS?
Artist set-times will be available on this page.
HOW LONG DO HEADLINING ACTS PERFORM?
The set-times will be posted on our website 24 hours in advance of the festival. Typically the headlining act will perform approximately 90 minutes.
At The Festival
WHAT SHOULD I WEAR?
Please check the weather forecast and dress accordingly. This is a rain or shine event. Umbrellas are not permitted.
WHAT IF IT RAINS?
Trackside is a rain or shine event, no refunds will be issued.
WHAT FORMS OF PAYMENT WILL TRACKSIDE ACCEPT ONSITE?
Acceptable forms of payment will vary based on the individual food, beverage and merchandise vendors. There will be ATMs onsite. Tickets must be purchased for alcoholic beverages at the "Alcohol Tickets" Stand. No cash, credit or debit will be accepted at the bar areas.
CAN WE BRING IN LAWN CHAIRS?
No. Unfortunately lawn chairs are not allowed onto the site. There will be limited seating throughout the grounds.
CAN I BRING IN MY OWN FOOD, DRINK, WATER OR ALCOHOL?
Outside food and drink is strictly prohibited on site.
I HAVE FOOD ALLERGIES, CAN I BRING MY OWN FOOD?
We will have a number of great food vendors on site serving a variety of foods which will include vegetarian, vegan and gluten free options.
CAN I BRING MY DOG?
Only certified service dogs are allowed.
CAN I SMOKE ANYWHERE ON SITE?
There will be designated smoking areas onsite just outside the main festival entrance. Please note that smoking, including the use of e-cigarettes, is only allowed within these areas, as per the "Smoke-Free Ontario Act".
ARE WE ALLOWED TO TAKE PHOTOS?
Please do! Don't forget to tag #KickItTrackside! Smartphone cameras, camera phones and small, point and shoot cameras will be permitted. No professional cameras will be allowed onto the site except for accredited media.
WHAT IS AND ISN'T ALLOWED ON SITE?
Please refer to our Rules and Regulations page for a list of prohibited and allowed items.
WILL THE FESTIVAL BE TOO LOUD FOR MY CHILD?
We recommend considering protective ear phones if you are planning to bring a child under the age of 5.
BE ADVISED: Children's ear canals are small and particularly susceptible to loud noises, and even brief exposure can induce permanent hearing loss. Sustained exposure to sounds greater than 85 decibels are known to damage the sensitive hair cells in the inner ear. Please consider protective ear phones if planning on bringing a child under 5.
Check Out the Highlights from Trackside 2016!
Counting down until Trackside 2017!
Brought To You By Our Partners

Funding provided by the Government of Ontario.